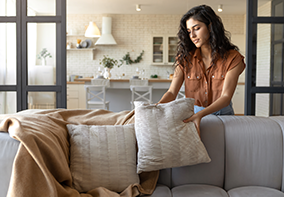 There's no doubt that an effectively "staged" home is likely to sell faster and for a better price. Studies in real estate sales consistently prove it. However, you might be asking, "Is it better to do the staging myself? Do I need to hire a professional?"
Let's look at the pros and cons.
If your home is already in demand and likely to get multiple offers, you might get away with doing the staging work on your own. In that case, it's still advisable to get professional advice rather than "guess" your way through the process. There may be specific staging approaches that apply to your home, that only a professional would know to recommend.
There are, of course, some downsides to doing it yourself, such as the extra work involved, as well as the fact that you may not have the experience or materials (such as staging furniture) to do a professional job.
By contrast, when you hire a professional, or at least get professional advice, you take advantage of the latest staging best practices to make your home more attractive and desirable to buyers. That is especially important in a balanced or a buyer's market.
At the Witterman Group, we feel so strongly about the power of staging, that we offer that service on each of our listings. Our experience is in line with what research has found — when properly staged a home often will sell faster and for money than a home that has not been staged to sell.